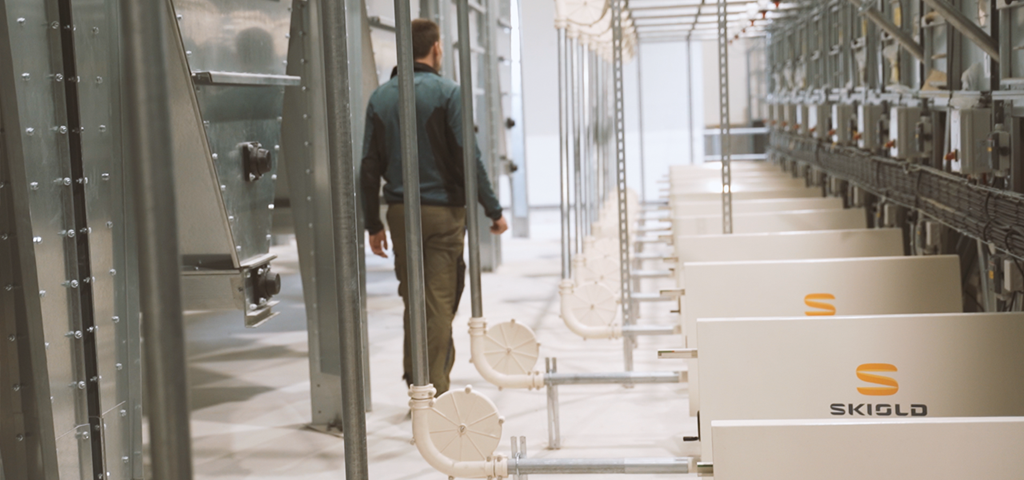 Revolutionize your pig farm's feeding process
with the SKIOLD TransPork dry feeding system!
Introducing the revolutionary SKIOLD TransPork dry feeding system - the ultimate solution for pig farms seeking unmatched feeding capacity! With an incredibly robust construction, TransPork boasts twice the capacity of other dry feeding systems on the market.
Designed to maximize efficiency, TransPork can be paired with SKIOLD volume dispensers or used as a filling system for Maximat® feeding automats. Plus, with the option of mounting the drive unit on the floor or wall, it's a flexible solution that can fit any space.
The stainless cabinet hopper is ideal for both indoor and outdoor use, and can be placed free-standing on the floor or suspended under a silo. Plus, with a specially adapted inlet, it's compatible with standard hoppers and can also be customized with special connections
TransPork corners are made of tough plastic and can be positioned horizontally, vertically, or at an incline, offering ultimate versatility. Heavy-duty inner wheels feature dustproof ball bearings, while the two outer casing parts bolt together with stainless bolts for a secure, dustproof seal.
Overall, the SKIOLD TransPork dry feeding system is a highly efficient and durable solution for large-scale feed production, offering unmatched capacity, versatility, and a range of features that protect against wear and tear, damp, and feed penetration. Its simple hopper design and easy installation make it a convenient and flexible solution for poultry and pig farms seeking to optimize their feed production processes.
Experience the ultimate feeding capacity with SKIOLD TransPork - the perfect solution for pig farms seeking to optimize their feeding process!
SKIOLD TransPork Advantages highlighted